Iconic Displays provides a wide variety of portable trade show displays products including display rentals, truss displays, modular displays, pop ups and much more. Use this category navigation list to quickly find the display that's best for you:
- 10x10 trade show booths and exhibits
- Portable trade show displays
- Trade Show Content marketing tips
Learning more about how things work is almost always interesting – but it's even more so if you can choose your own topic, do your own research, and present your findings to large groups. In the school setting, science fairs provide kids the opportunity to do just that. They promote interest and enthusiasm for school and for the research process, they promote creativity, and they build self-confidence.
To be successful at a science fair, you need a great display. It can mean the difference between taking home a top prize or going home empty-handed, despite your best research efforts and your fascinating topic.
This guide was designed to help understand the various elements of a science fair display and how to use them to your advantage to attract attention, add visual appeal and convey your findings in the most informative way possible.
Choosing the Right Colors
People subconsciously associate colors with different emotions and concepts. Green, for instance, is often associated with eco-friendly and earth-focused concepts. Red is associated with fire and anger and is an attention-grabbing color. The colors you choose for your science fair display should be closely tied to your topic, but also chosen carefully based on these subconscious associations.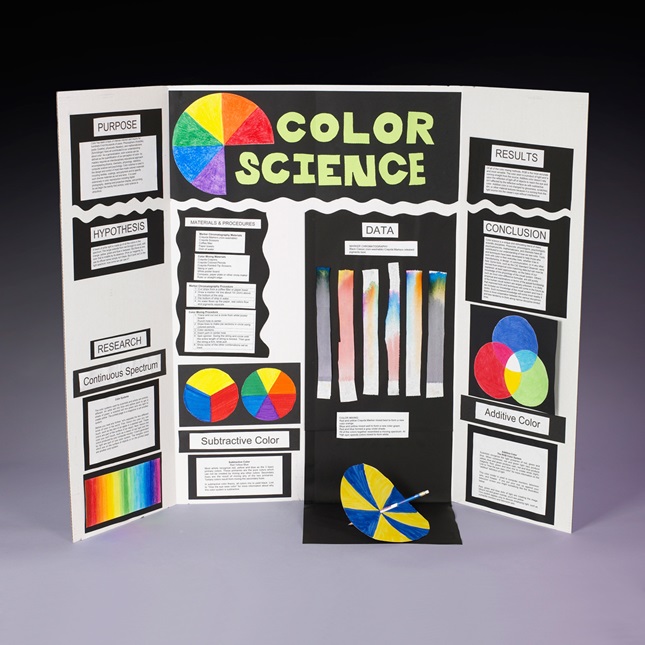 See Also:
Poster Layout and Flow
Your display layout will have a big impact on your overall presentation. You want to convey information in a logical sequence, but you also want to emphasize the most intriguing findings or details and keep fair attendees interested – and sticking around your booth a little longer. Order is not just sequential, but visual. A display with various tidbits of information placed haphazardly on a poster isn't appealing to the eye. Make sure it follows a logical sequence and is neat and orderly, creating a natural eye path.
See Also:
Balancing Text and Images
The most-effective science fair displays have the ideal balance between text, images and white space. Images are just as important as providing all the details of your project in written form, and the right balance between text and images makes your display visually appealing. Include photos of your experiment at various stages, before and after photos or images of related objects or the concept of your project occurring in nature. For a volcano project, for instance, incorporating photos of real volcanic eruptions can make your display more interesting.
See Also:
Incorporating Charts and Graphs
Charts and graphs are useful for displaying a lot of complex information in an easy-to-understand format. By incorporating charts and graphs in your science fair display, you can give attendees a quick synopsis of the results of your experiment or convey important background statistics. This helps both judges and attendees absorb the most important details without reading a lengthy report or scanning through a few paragraphs of text.
See Also:
Using Great Titles and Subheadings
Titles and subheadings are an important component of your science fair display. If your physical display attracts attention, the first thing an attendee will look at next is the title of your display – they want to know what it's about. Your title should be simple and intriguing, as well as prominently displayed and in large, easy-to-read font. You can also use your hypothesis, problem or question as the project and display title. Use subheadings to convey your project's main points or findings and guide readers through the steps of your experiment and the results. Headings may match the headings in your research paper or be different, but the general guidelines for writing effective headings are the same.
See Also:
Crediting Sources
It's a good idea to give proper credit to your sources somewhere on your display in addition to the references page that accompanies your written report, if your project requires one. This is often added as a secondary element on the display poster and can include smaller font than what is typically used for headings and main points.
See Also:
This educational resource was created by Iconic Displays, makers of custom products for exhibit professionals including trade show booth displays, trade show display rentals and truss displays.